"Going viral is easy! It is much more difficult to become someone whom people want to listen to and are interested to follow." Video bloggers about routine and gadgets that help to stay on top․
Any job, even the most interesting one, at some point becomes routine, even a blogger's job who travels around the world and meets extraordinary people. We talked to two top content-makers from Armenia and found out if it is possible to get tired of endless adventures, and how to turn numerous rewrites of the script, the same type of shooting, video editing and posting into fun.
—
The article may contain promotional contents
Hamlet Arakelyan – a TV and radio host with 30k subscribers, for whom the world is a text that he creates.
Let's be clear right away, is your video blog on Instagram a job?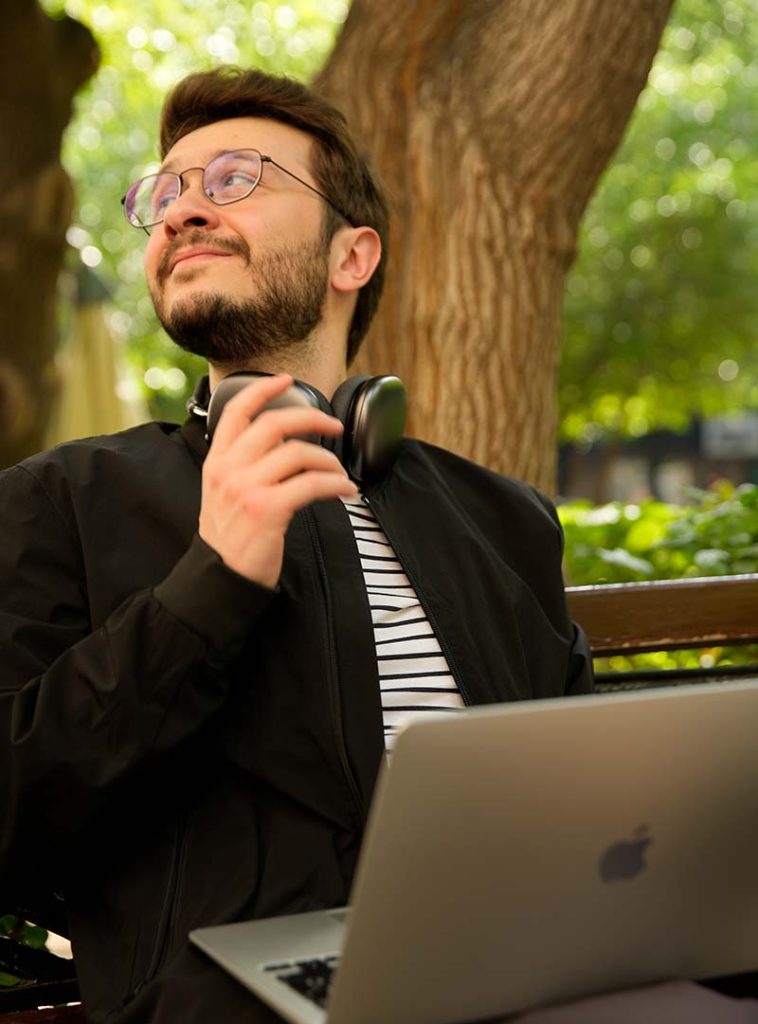 I combine blogging with my main job as a writer and TV/radio host, and I think the two facets complement each other perfectly. I've been working in media since I was a kid, so "being in public" is something I am used to. The only difference is that people follow events on social networks on a small screen (laughs). There's no room for staging in my Instagram, I'm real there, without filters. I'm a lucky, I have a lot going on in my life every day that I can and want to blog about. For me it is a way of communicating with people, a source of new ideas and experiences.
Was the popularity on social networks sudden?
Becoming viral was easy, but it took a lot of effort to become the person I am today – someone whom people want to listen to and are interested to follow. You can create quality content for years, and then one simple video happens, one snippet that just resonates with people, and voila – a huge community of subscribers interested in seeing even more from you.
What inspires you and helps you keep going?
My main insight is that you have to be yourself. People will love you or not, but if you stay true to yourself, you will gather a community of like-minded people who will support you in all your endeavors and give you the very fuel that doesn't allow you to stop. It's like in life, only online.
My inspiration is life as it is. I love life, I love my experience on this planet, and I hope I can convey that feeling through my blog.
And, of course, reading, reading and reading! That's where I get my inspiration, too. I see the world as text (it's in my Instagram bio :D). I love to immerse myself in stories and to create and tell them. In my profile you will find many poems and quotes, both by me and my favorite authors.
Your content can hardly be considered "typical" or "trendy," how do you think it catches your audience?
In my videos, I usually answer random questions and philosophize about life. People like this kind of videos because there is an effect of surprise. You never know what a person is thinking about a particular issue, but their thoughts may suddenly resonate with yours and create a connection. You will feel that you are not alone. There is someone else who thinks or acts just like you.
Ideas for my content come from life issues and everyday experiences. You can always find food for thoughts if you live contemplatively.
When talking about content, there is always a lot of emphasis on ideas, but less on the technical side of things. How important is it to you?
Very important! Most of what I do involves reading and writing, so I just can't live without some gadgets, like the MacBook Air and iPhone. And the headphones bring in the music and set the mood for working. And that's, you know, half the battle – getting in the mood.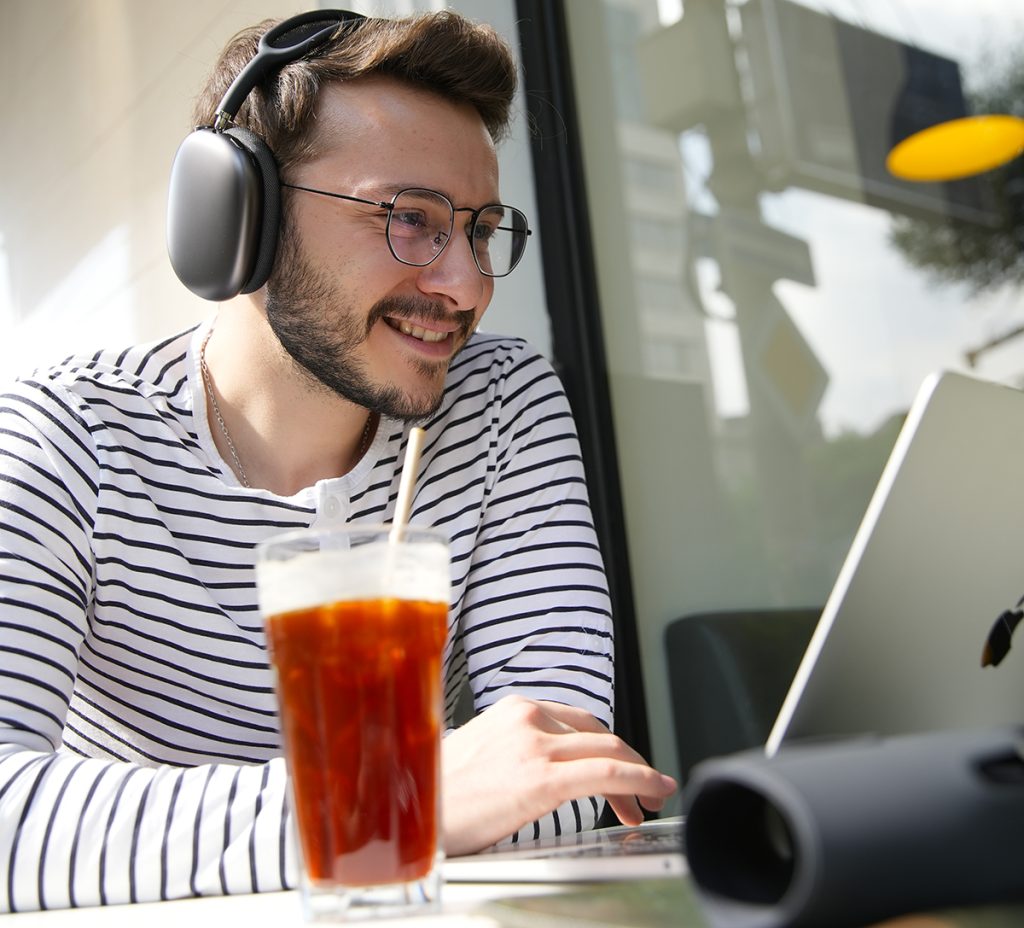 What functionality made these devices indispensable for work and blogging?
The way the devices are connected, work together. Pairing MacBook Air and iPhone is one of the handy features for multitasking. I usually shoot and record everything on my phone and then transfer the files to my laptop for further processing. I also like how quickly you can share your texts on different devices and work in parallel thanks to the Apple Notes app. Another feature of Apple devices is the Continuity function, which helps you not to waste time saving the same file on all devices. For example, you started writing a script at home on your laptop, but edits appeared on the way to the studio – no need to stop and sit down, everything can be edited on the iPhone.
Another convenience is that MacBook Air lasts very long on a single charge. I don't have to worry about finding a power socket when I'm on the run all day.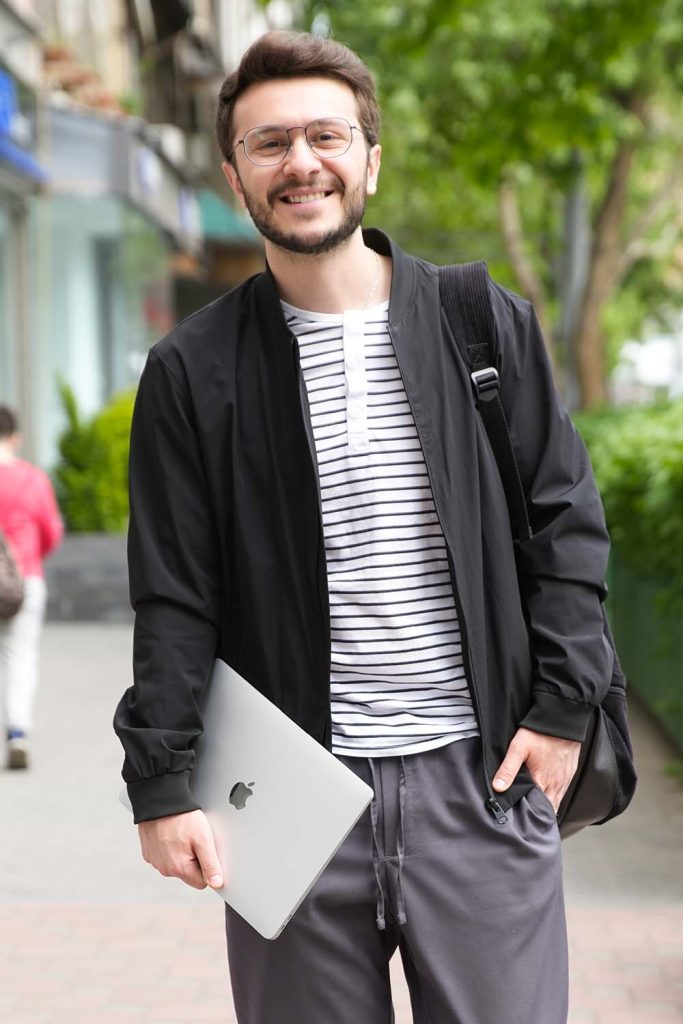 Why did you choose this particular laptop?
My life became much more productive after I bought my first MacBook. Seriously! I would never go back to using any other device. It's stylish, long-lasting, fast and lightweight. I take my laptop with me everywhere and don't feel like I have anything heavy in my bag. In addition, all Apple products, such as the MacBook Air and AirPods Max, have a laconic, recognizable design. They go well with my image and fit my closet.
And the last, one life hack for those who would like to make a top video.
There's a technique I've been using recently, which is shooting in 0.5 format on the iPhone's back camera and then posting the video to the stories. I think it looks very appealing and gives subscribers a better idea of where you are.
And another important point: sometimes the best way is the easiest way. You can spend days preparing and creating special content that won't necessarily generate engagement, while sometimes the most unprepared things "shoot out". I realized that simplicity always wins out.
Agnes Kheranyn, lifestyle blogger in love with life. 67k subscribers
You were one of the first people in Armenia to develop video blogs.  Have you been able to turn your hobby into your life's work?
I started my blog almost 6 years ago. As I was one of the very first bloggers in Armenia, it was easy for me to be noticed. But blogging wasn't that "on trend" at the time. It was not real to earn money, or to grow blogs very fast. Until last summer I was working at Picsart, that was my main job, but now, finally, I'm completely focused on my blog, doing everything to make it grow and get better (smiles). 
Lifestyle blogging is always about some kind of positive emotion. Is it easy to find the energy and motivation to create daily trending content every day?
If you ask my subscribers what I do, the answer will be unboxing videos, travelling, beauty experiences. But my blog isn't just about that. I hadn't even imagined that it would be so hard to share my life with others, to be honest, and therefore to show my weaknesses.
It's not easy to create daily content in chaotic periods. That's why in my blog I often talk about mental health, women's rights, social equality – things that really move me and are important to cover in my country.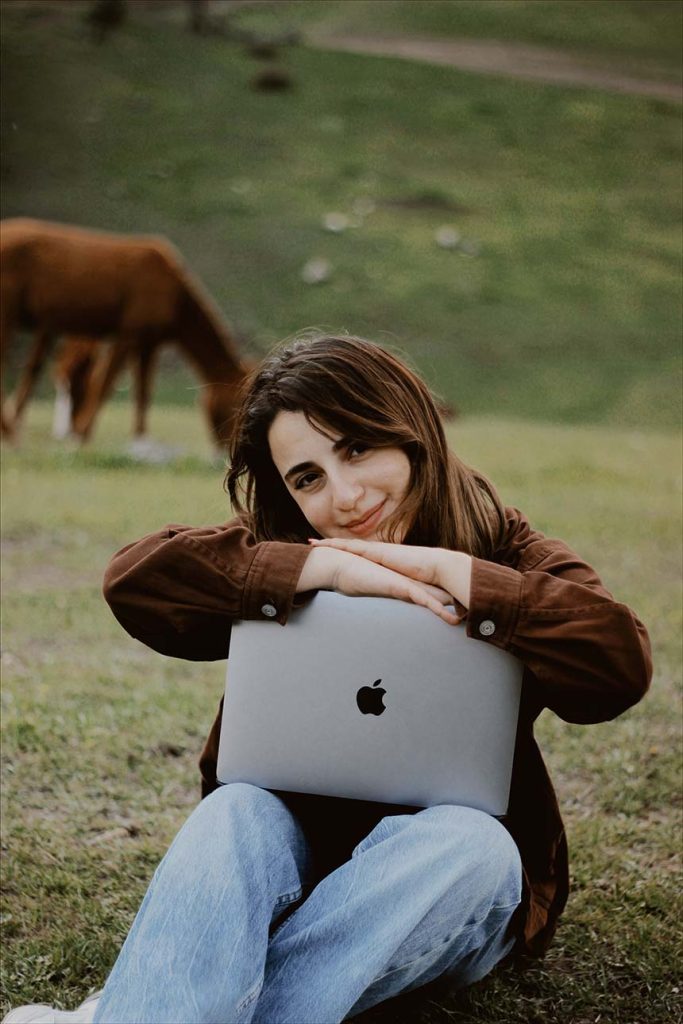 As for inspiration, I enjoy new encounters, my loved ones, and travelling, without which I cannot imagine my life. In my spare time, I like to watch detective TV shows for an internal reboot and do research – exploring content around the world and finding new ideas in people's lives. I am especially inspired by my peers, who have already reached certain heights in their career; they help me to believe in myself. And if these successful people are also bloggers – they become not only a source of motivation, but also a cheat sheet in the world of social media trends.
What devices do you need to create content? Can you name the top 3 devices you can't imagine doing your job without?
It started when I was a kid. I used to do a lot of video editing. Then went into directing, so devices are all about me and quality devices are must have for me.  For professional work, I use Apple products, especially my MacBook Air. I travel a lot, and such a lightweight laptop is convenient to put in a backpack to get at any time and start working. It's thin, fast, and I don't remember it ever slowing down or freezing, and it feels amazing. 3 devices I can't live without, it's definitely the iPhone, MacBook and headphones. Yes, the perfect trio for creating content and listening to music.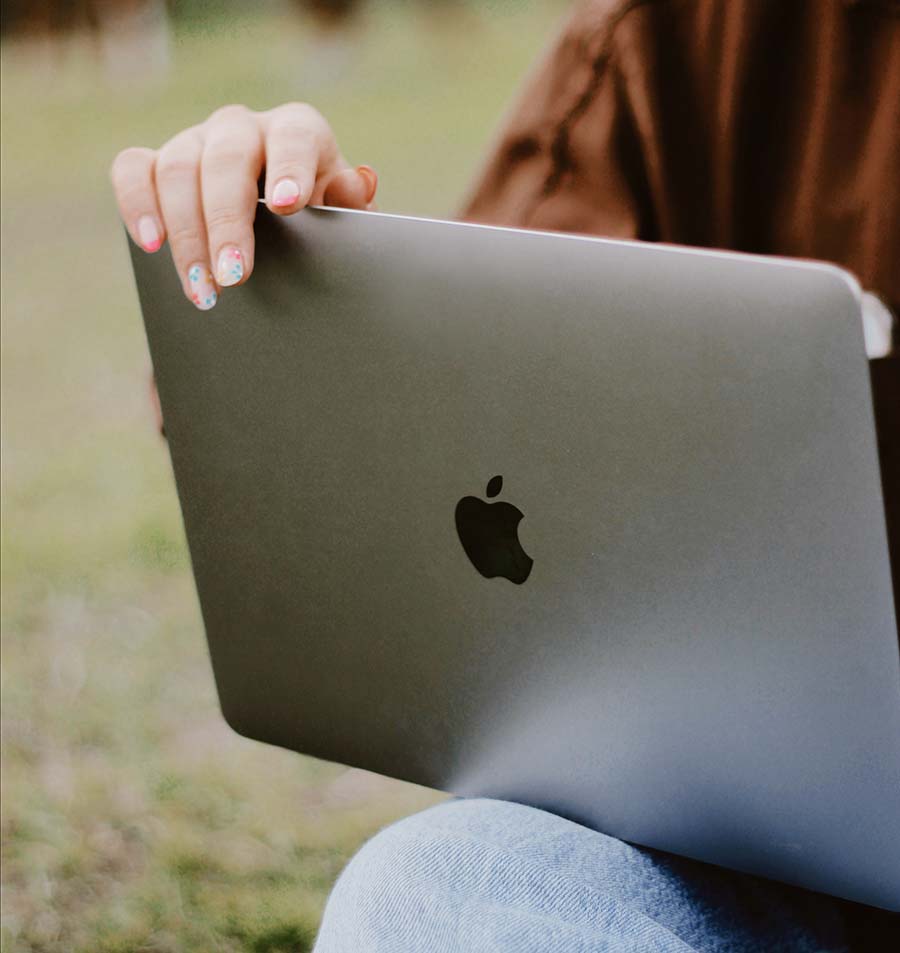 Is such a trio enough to create content?
I'm using my iPhone 12 Pro for shooting and editing Reels for Instagram, MacBook is for my YouTube projects and working on documents. The headphones help me fully immerse myself in my work or, conversely, distract myself by watching a movie or listening to music.
So yes, these three devices cover all my content creation process – from finding an idea to the final posting of the video to Instagram.
As an active user of Apple products, share the tricks that help you at work that you think many people might just not know about.
Oh, of course! If you have both a MacBook and iPad at the same time, you can use them as a seamless screen. I'm having a lot of fun with this feature. It's also very cool to take different types of screenshots with Apple products. Video/photo, full screen, your preferred part of the screen and so on, just google it and make your life easier, it's worth it. Another nice little trick, just press Ctrl + Command + Space and you'll see the emoji bar. Try it!
Promotion part
The MacBook Air M1 is now available at a discounted price from 429,900 AMD. Also available on 36-month credit at https://www.zigzag.am