STARMUS VI – out of this world science and arts festival of Stephen Hawking and Brian May will kick off from Armenia to Mars
STARMUS is a unique festival in the world connecting the brilliant minds from science, education, and technologies, as well as renowned musicians and artists on the same stage to collaborate and to enhance science communication, to popularize it through interdisciplinary cooperation.
STARMUS is an international festival associated with the names of Steven Hawking, Brian May, Alexei Leonov and other world-renowned artists, scientists and musicians. It was launched in 2011 and the previous five editions were held in Tenerife (Spain), Trondheim (Norway), and Zurich (Switzerland). Starmus Festival hosted 25 Nobel Prize laureates alongside such eminent speakers as Stephen Hawking, Neil Armstrong, Neil deGrasse Tyson, Hans Zimmer, and many others. Starmus Advisory Board is a constellation of prominent scientists, musicians and innovators, such as Brian May, Emmanuelle Charpentier, Jill Tarter, Peter Gabriel, Richard Dawkins and Tony Fadell.
STARMUS was founded by astrophysicist Dr. Garik Israelian and the legendary guitarist of Queen, astrophysicist Dr. Brian May, becoming a platform that unites world-renowned scientists, Nobel prize laureates, astronauts, and the brightest minds of science, art and technology. In the scope of this festival they are sharing their experience, knowledge and the latest inventions with attendees to simplify the process and to inspire more youth and participants to explore the world of science.
Stephen Hawking, the greatest scientist of the 20th and early 21st centuries, was the STARMUS advisory board member and became an inspiration for initiating an ambitious award in 2016 that recognizes the merit of popular science at an international level. The most prestigious the Stephen Hawking Science Medal awarding ceremony is also one of the key events of the Festival aimed to support science communication. Amongst winners of the medal are Hans Zimmer, Neil deGrasse Tyson, Buzz Aldrin, Brian Eno and Elon Musk.
STARMUS VI Science and Art Festival will be held in Armenia entitled "STARMUS VI. 50 Years on Mars" and dedicated to the 50th anniversary of the first soft landing on Mars by mission "Mars 3" and the first orbiter "Mariner 9". "Mariner 9" has taken the first high quality images of Mars while "Mars 3" has brought the first robot Prop-M to the surface of Mars. Should be highlighted the fact that "Mars 3" took to the Red Planet the "Prop-M" rover designed by the Armenian engineer Alexander Kemurdzhian.
STARMUS produced a music with Brian Eno and Serj Tankian to pay tribute to the Armenian engineer Alexander Kemurdzhian the designer of the Lunokhod and the first planetary Mars Rover Prop-M, to commemorate and celebrate his 100th anniversary. The music pieces by Brian Eno (https://www.youtube.com/watch?v=qcpHn_y_QXY) and composed by Serj Tankian from System Of A Down (https://www.youtube.com/watch?v=_7VFAul3_IY) were entitled "To Moon and Mars with Kemurzdhian", and were unique compositions expressing the importance of Kemurdzhian's inventions.
STARMUS VI program was announced at the press conference held on 16 June, 2022 in Yerevan with its exciting and thrilling agenda.
The Nobel laureate, neuroscientist Edvard Moser highlighted: "I'm pleased to participate in the next STARMUS. I have been with STARMUS for the last 7 years starting from 2015 when I joined the festival in Tenerife first. I terribly enjoyed it, it was interesting to hear about sciences that are outside my own field and I'm especially thrilled by the many lectures that were given about space. I'm excited to finally have the opportunity to go to Yerevan after some long delay caused by Covid. I will have a talk about the brain. The brain is not the main topic of the festival but it does have a strong emphasis on music. I am looking forward to joining you all and to be part of the festival in September."
Another speaker of the conference, editor-in-chief of the Astronomy Magazine David Eicher emphasized: "I was fortunate enough to become involved at STARMUS festivals. There's really no other conference like STARMUS that allows the participants to see and experience these amazing and cutting-edge things, and get to interact with the scientists who are doing this in Yerevan. We're really in a tremendous era of discovery here and the caliber of speakers is always the highest at the festival."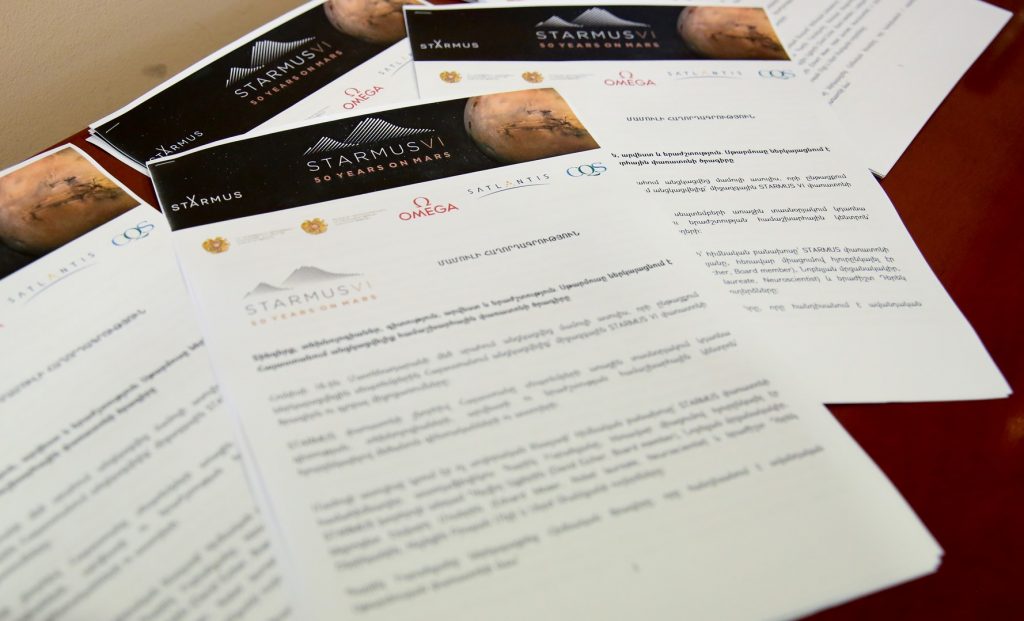 STARMUS co-founder Brian May in his address video for Armenia highlighted his confidence in Armenia to become one of the best hosting countries and destinations for the festival.
System of a Down's lead singer Serj Tankian invited everyone to visit Armenia and enjoy the atmosphere of high level music and science in September, and not to miss the once-in-a-lifetime opportunity to become a part of such an amazing event.
STARMUS co-founder and director Garik Israelyan presented the general program of the festival. Out of the main traditional events STARMUS, jointly with airspace company Satlantis will organize a 2-day conference on Space Technologies, as well.
"It's very important for us to reach out to all the youth and the whole country and to make the event accessible for everyone", emphasized Garik Israelian, astrophysicist, STARMUS co-founder.
STARMUS is unique with its format that popularizes science communication and brings younger generations closer to science through arts and music, inspiring them to new inventions and exploration.
In September, 2022 Armenia will host world renowned astronauts Chris Hadfiels, Jim Bagian, Charlie Duke (Apollo 16), nobel laureate scientists Kip Thorne, Emmanuelle Charpentier, Donna Strickland, ipod founder Tony Fadell, physicist and science communicator Brian Greene, rock band Sons of Apollo, artists Rick Wakeman, Serj Tankian, Tigran Hamasyan, Andrey Makarevich, Derek Sherinian, other celebrities and renowned scientists.
The names of the speakers and artists are presented on the official web page https://www.starmus.com/Armenia and new names are being added regularly to the list.
STARMUS aim is to inspire and educate the next generation of explorers and regenerate the spirit of discovery.
The festival is being organized in cooperation with the Government of the RA, particularly with the Ministries of education, science, culture and sports and High-tech industry of the RA.
STARMUS VI festival full program is available on the official web page https://www.starmus.com/Armenia.
About STARMUS festival
STARMUS festival has been hosted in Tenerife (Canary Islands, Spain), Norway and Switzerland and the next destination is Armenia.
STARMUS is a global festival of science communication and art that brings together the most brilliant minds on the planet. Its aim is to inspire and educate the next generation of explorers and regenerate the spirit of discovery.
The world-famous STARMUS festival is associated with Stephen Hawking, Brian May, Alexei Leonov and other world-renowned names.
STARMUS was first held on the island of Tenerife (Spain) in 2011 and combines science, education, art and technologies to enhance science communication.
STARMUS Festival was founded by astrophysicist Garik Israelyan and Brian May, guitarist of the legendary Queen band, also astrophysicist, becoming a platform for world-renowned scientists, Nobel Prize laureates, astronauts, scientists and representatives of culture and art to share their experience and knowledge about the latest discoveries with the public.
Their collaboration makes it possible to highlight the problems of humanity and to hold discussions on possible solutions.
About STARMUS starmus.com
YouTube Channel youtube.com/user/starmusfest
Official website: starmus.com/Armenia
facebook.com/StarmusArmenia
twitter.com/StarmusArmenia
instagram.com/starmus