The Career City Fest, the sole and pioneering future-oriented career fair in the country and region, is set to welcome guests on April 28 and 29, 2023.
Career City Fest serves as a metropolis for job seekers to connect with potential employers, for students to explore educational programs that align with their aspirations, and for top companies to showcase their brand and corporate culture.
Brief information about Career City Fest 2023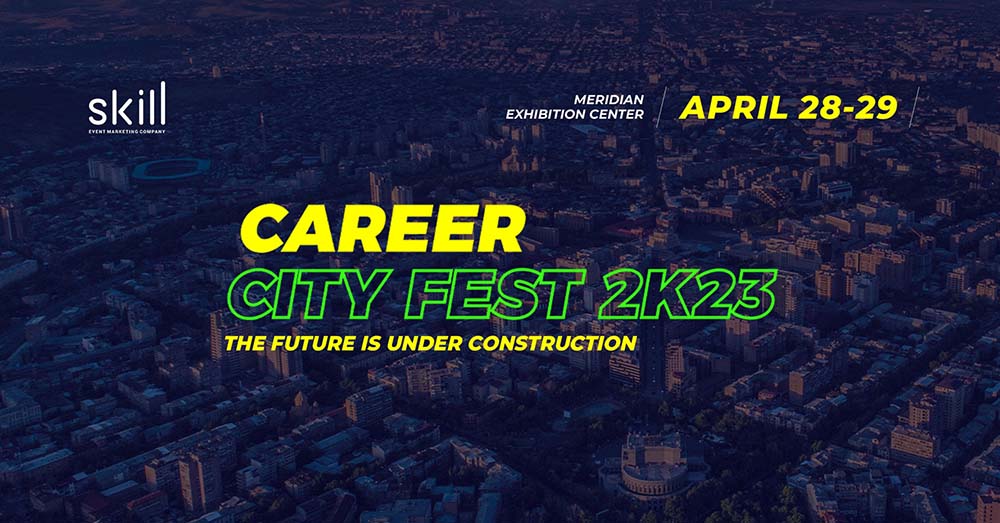 Organizer: Skill Event Marketing Company
Venue: Meridian Expo & Event Center (Voskerichneri street 1)
Dates of the event: 28-29 April 2023
Official website: www.careercityfest.am
📞 060 70 75 70
Registration link:

https://bit.ly/CCF_REGISTRATION
Who can attend the event?
The Career City Fest 2023 is designed to unite students, professionals, parents, employers, educational institutions, and government agencies in a futuristic setting. Our chosen format enables us to host diverse events all under one roof within a span of two days.
The festival simulates a vibrant city complete with a city council, themed streets, a central park, and other characteristic elements. Attendees can easily find what they are looking for in this dynamic environment.
The main objective of the festival is to establish a platform for companies of any size and industry that prioritize their mission and corporate culture, valuing their people above all else. For any discussions or updates related to the Career City Fest event, please use the #CCF hashtag.
Discover the lineup of speakers and the schedule for Career City Fest 2023 by visiting this webpage: https://skill.glueup.com/event/career-city-fest-2k23-74458/. Registration is free and open to all!