Armenia, a country rich in culture and history, has emerged as a vibrant hub for startups and innovation. In recent years, its startup ecosystem has experienced remarkable growth, attracting attention from around the globe. This blog post will delve into the factors driving the rise of Armenia's startup scene and highlight some of the success stories that have put the country on the map.
The Recent Growth of the Armenian Startup Scene
Armenia's startup ecosystem has witnessed exponential growth in recent times. With a focus on technology and innovation, Armenian startups have been making waves on the international stage. The country's strategic location, favorable business climate, and supportive government policies have created an environment conducive to entrepreneurial success.
In 2023, the startup ecosystem in Armenia experienced significant growth, leaping three positions ahead compared to the previous year and surpassing Vietnam in the rankings.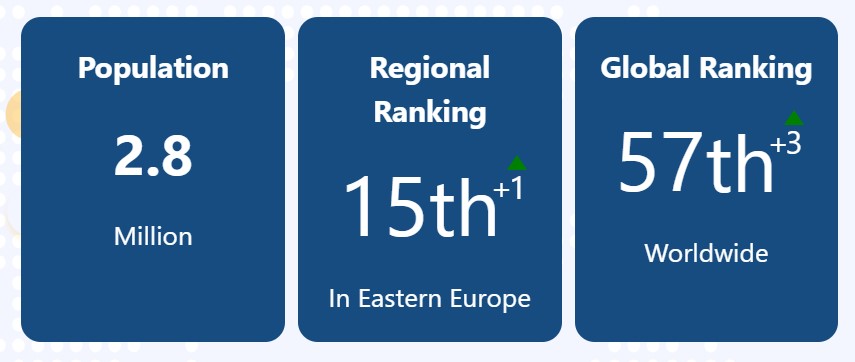 According to StartupBlink, Armenia holds the 15th position in the Regional Ranking of Eastern Europe's startup ecosystem. In the global ranking, Armenia is placed at the 51st spot.
Success Stories of Armenian Startups
Armenian startups have been garnering recognition for their groundbreaking ideas and disruptive innovations. Companies like PicsArt, Teamable, 10Web, Krisp, and other startups have achieved significant milestones, attracting substantial investments and expanding their global footprint. These success stories serve as inspiration for aspiring entrepreneurs and reinforce Armenia's position as a rising star in the startup world.
Factors Contributing to the Growth of the Armenian Startup Ecosystem
A Strong Pool of Tech Talent: Armenia boasts a highly skilled and educated workforce, particularly in the field of technology. The country's renowned educational institutions, such as the American University of Armenia and the National Polytechnic University of Armenia, produce a steady stream of talented graduates, fueling the startup ecosystem with their expertise and innovation.
A Supportive Government: The Armenian government has recognized the potential of startups in driving economic growth and has implemented policies to support the entrepreneurial ecosystem. Initiatives like the High-Tech Industry Development Fund and tax incentives for startups have attracted both local and foreign investments, fostering a supportive environment for startup ventures.
A Favorable Business Climate: Armenia's favorable business climate, characterized by low taxes and streamlined regulations, has encouraged entrepreneurs to establish and grow their startups. The ease of doing business in the country has attracted foreign investors and provided a solid foundation for startups to thrive.
A Growing Number of Startup Accelerators and Incubators: Armenia has witnessed a rise in the number of startup accelerators and incubators, providing crucial support and mentorship to early-stage ventures. Institutions like Hero House, Impact Hub Yerevan, and SmartGateVC offer tailored programs, resources, and networking opportunities that help startups refine their business models and accelerate their growth.
A Thriving Tech Community: Armenia's tech community is vibrant and collaborative, with numerous networking events, hackathons, and conferences taking place regularly. Communities like Startup Armenia and the Armenian Entrepreneurs Network bring together like-minded individuals, fostering knowledge exchange, collaboration, and inspiring new ventures.
Armenia's startup ecosystem is rapidly gaining recognition on the global stage, fueled by a combination of tech talent, government support, a favorable business climate, incubators, and a thriving tech community. As success stories continue to emerge and investments flow into the country, Armenia's position as a rising star in the startup world is set to grow stronger. The future looks promising for Armenian startups, as they continue to push boundaries, innovate, and contribute to the country's economic development.
Do you have an interesting story about an Armenian startup? We are open to partnering with startups that were created in Armenia, and we will share your stories on the various channels of intech.am, a tech platform dedicated to showcasing Armenian technology.